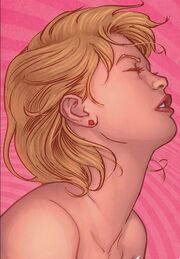 Agent 8
, born
Alia
, was an agent of
Spyral
. Working for
Elisabeth Netz
, Agent 8 worked against the parts of Spyral run by
Luka Netz
.
Biography
Edit
Born in Smallville, Alia refused to believe anything heroic could ever come from that town. Learning how to handle a gun before she could walk, Alia joined Spyral and became Agent 8 shortly after graduating from high school. The partner of Agent 1, 8 had become affectionate with her partner. When told she would be teaming up with Agent 37, 8 and he had sex with each other. After 37's actions left 1 unguarded, 8 and he had an argument after which she began to trail him. When he led her to the Old Gun, Alia tried to assassinate the villain but ended up faking her own death in the process using her Hypnos.
Working with Elisabeth Netz, 8 began to try and frame Agent 1 for the murders of a Checkmate agent, an ARGUS operative and several other spies. After attacking Agent 1, 8 fought 37 and managed to use the Hypnos to beat him. However, this caused her cover to be blown by Agent 1 although she nonetheless convinced him to join her.
Community content is available under
CC-BY-SA
unless otherwise noted.