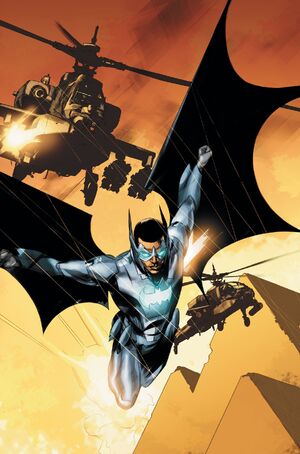 David Zavimbe is a "Batman" of Batman Incorporated who acts under the name Batwing.
Biography
Edit
Early Life
Edit
An orphaned child soldier in the country of Tinasha, David Zavimbe and his brother, Issac Zavimbe, served for General Keita's Army of Dawn. The two would be ruthless killers. However, when commanded to kill an entire village of innocents, they would rebel and Issac would be taken by Keita. David, in retaliation, would cause Keita's death and vow never to kill again. David would stay at the Children's Harbour, an orphanage for child soldiers, for a while, until he would be taken in by Matu Ba. David would later rescue a woman named Rene from rapists. Rene would end up becoming one of David's best friends.
Tinashan Police Officer
Edit
As an adult, David would join the Tinashan police force and would immeidately be disgusted by the corruption within it. Confiding in Rene, David decides to make an example of himself to the police system. Soon after, Matu Ba and Rene would be injured by a man named Death Jack, angering David. Putting together a makeshift costume and tracks down Death Jack, and although he beats him ruthlessly, David does not kill the villain. Becoming a vigilante of sorts, David would eventually come into contact with the Tiger Gang, who would surround him, only for the Batman to approach David with an offer.
Community content is available under
CC-BY-SA
unless otherwise noted.